Taking care of yourself equals receiving the care and love of your higher power. Self care is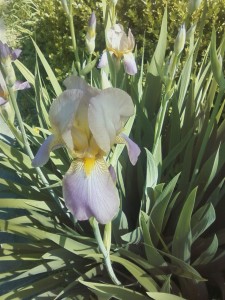 God's love, pure and simple. Your creator does not need or want you to feel all beat up, bent out of shape and burnt out. Your creator wants you to feel rich, lovable, fulfilled and loved. This is where your strength and comfort come from.
The hardest times to do self-care are when you're beset by life's unavoidable obligations, trials and tribulations. Try one of these when you're so overwhelmed you feel you can't possibly take more than a minute.
Brush your hair
Pull up your socks and tie your shoes
Wash your hands sloooowly after using the loo; revel in the hot soapy water
Splash cool water on your face; blot ever so gently
Take a long, slow drink of water. Keep a water bottle nearby for this
Look around the room and pick out everything that's your favorite color
Raise your shoulders up to your ears. Hold to the count of 30, then drop them. Repeat
Send someone a little "thinking of you" text or email
Lightly run your hairbrush over the tender inside of each arm and give yourself a chill
10. Read a page in a meditation book you keep near your work station just for that purpose
11. Call your BFF and ask permission to work just a little bit not-so-hard. I promise she'll give it to you.
12. Pray this three times to yourself: "I'm sorry. Please forgive me. Thank you. I love you."
13. See how many things you can write in a minute that you're grateful for
14. Stare out the window. Set a timer. Find one at http://www.online-stopwatch.com/countdown-timer/  I dare you!
15. Make a list of what you'll do with your first million.
16. Pray the Serenity Prayer a few times: "God, grant me the serenity to accept the things I cannot change, courage to change the things I can, and the wisdom to know the difference." Or another favorite prayer or inspirational verse. You might like to memorize one or two at a more relaxed time for this purpose. I often use the 23rd Psalm. https://www.biblegateway.com/passage/?search=Psalm+23&version=KJV
17. Stop. Breathe. Wait. Tell yourself, "There is nothing in front of me that's life or death." (Unless, of course there is. In which case, put this blog down and  go to it!)
18. Consider the importance to life of marshmallow peeps https://www.youtube.com/watch?v=uAUUL-Ypdu8
19. Repeat to yourself: I am enough, I have enough, I do enough.
20. Reach your arms around yourself and give yourself a big hug!
21. Take off your shoes and assuage your arches
22. Think of a friend who's struggling and send her some good vibrations
23. Think of someone who's on your last nerve, like your boss or your teenage son, and pray, "Bless him. Bless me." Repeat.
24. Stand up. Reach up. Streeetch as tall as you can. Lean to left. Lean to the right. Streeeetch!!!!
25. Forward this list to someone who might need it! Pat yourself on the back for doing a good deed. Feel better!!!!!
Find more self-care, self-loving guidance in my book The Hungry Ghost: How I Ditched 100 Pounds and Came Fully Alive. Find more inspirational suggestions in other blogs at gayedelman.com. You can also sign up to receive the blog as an email newsletter.