I love the golden light of fall and the poignancy of the long, slow slide into the dark, cold days and nights of winter.
It's a latency time for Mother Nature, a time to rest and restore. For me, it's also time of feeling shut in, disrupted from nurturing routines of long walks in the park and daily solitude and meditation in my backyard gazebo.
Last winter's biting cold and relentless storms were so awful that I resolved to go into this one better prepared.
Essential was to find a space for meditation and prayer. The dining room is nice enough except for the interruptions, and there are always interruptions. Have you ever resolved to give yourself a few minutes of reflection at home, only to find yourself throwing on a load of wash with no idea how you got from the chair to the basement? Happens to me all the time. I've lived in this house for 36 years and it knows very well how to whine for my attention.
Or I'll decide to check something quick-quick on the computer and before I know it I've just spent 20 minutes on Facebook. Yikes! I love Facebook. But wasn't I planning to meditate? Don't I know that centering myself first thing in the day is the greatest gift I can give myself—and everybody else in my life?
When a new friend heard my dilemma, she made a brilliant, simple suggestion:  Turn a closet into a meditation nook. So I did! The crates of office supplies found a new home. Then, a chair, a little table and a lamp and I have someplace to go to be alone with my highest self, there behind a "do not disturb" sign and a nice blue curtain.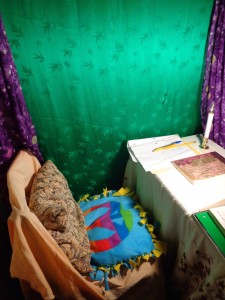 Some days, I expect to spend an hour or two; others, when the world calls or the brain just won't settle down, 20 minutes. But do it I must, in acceptance that outdoor meditation is wrapping up for this season, in gratitude for good friends with great ideas, and in awe of the relentless inner call to deepen my conscious contact with the one who created me.
How about you? Do you meditate? Do you have a special place for it? What's it like? I'd love to hear about it…
Find more about connecting with your inner truth in my book The Hungry Ghost: How I Ditched 100 Pounds and Came Fully Alive. Find more inspirational suggestions in other blogs at gayedelman.com where you can also sign up to receive the blog as an email newsletter.  On Twitter, follow @GayEdelman